Building your conservatory with an Oak frame may be more expensive than using conventional uPVC, but the result will be incomparably better, lift the external appearance of your building and be sympathetic to a listed or historic building.
The majority are not large spaces but they punch well above their size and allow light to flood into the building, whilst offering views to the garden. At Stanmore Lane careful consideration was given to the extent of the glazing, so as to obscure the neighbouring property, whilst getting light into the building and offering views and access to the rear garden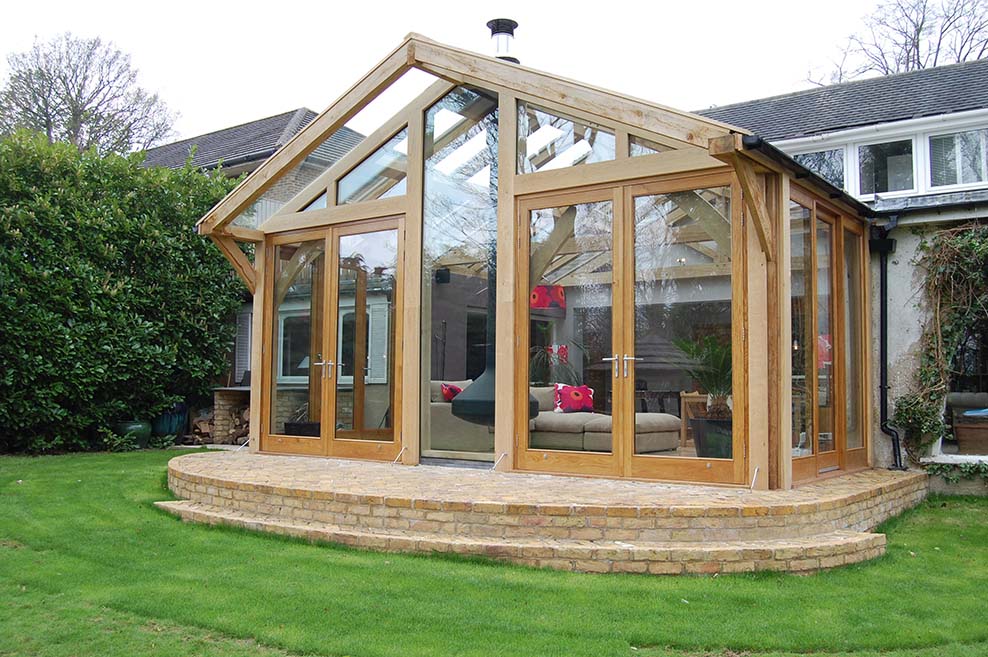 The key to getting this type of building to work is to pay attention to the glazing detailing. All of the examples seen here use a system of 'Direct Glazing' which involves clamping the glazing and joinery units to the outside face of the Oak frame with air-dried oak cappings, which is a time proven system. As a consequence of the growth of interest in Oak framing, a whole industry has grown around companies like ours, able to provide a specialist glazing package to supply and install. They can be found on our links page. As you would expect our frames use best quality Oak in order to minimize any defects which may adversely affect the glazing.
To make a useable and comfortable room all year round, controlling the temperatures will be vital. We advocate careful thought as to how elements of solid roofing or walls might combine with the glazing, so as to allow a good level of insulation and to offset the lower thermal performance of the glazed areas. One such successful project is The Stables.